PROMOTING SCHOOLWIDE WELL-BEING AND SOCIAL-EMOTIONAL LEARNING
There is a pressing need to develop a positive school culture and climate that fosters the development of well-being and social and emotional skills among students and staff. To overcome barriers often associated with labour intensive and complicated assessment tools, the Assessment of Schoolwide Well-being and SEL was developed to provide a flexible, free, easy to use assessment toolkit that provides a holistic and strength-based approach to school growth planning that promotes healthy schoolwide well-being and SEL. The toolkit also provides research-based resources to assist with the growth planning process.
---
HOW TO USE THE SCHOOL ASSESSMENT
Assesing Your Schoolwide Well-Being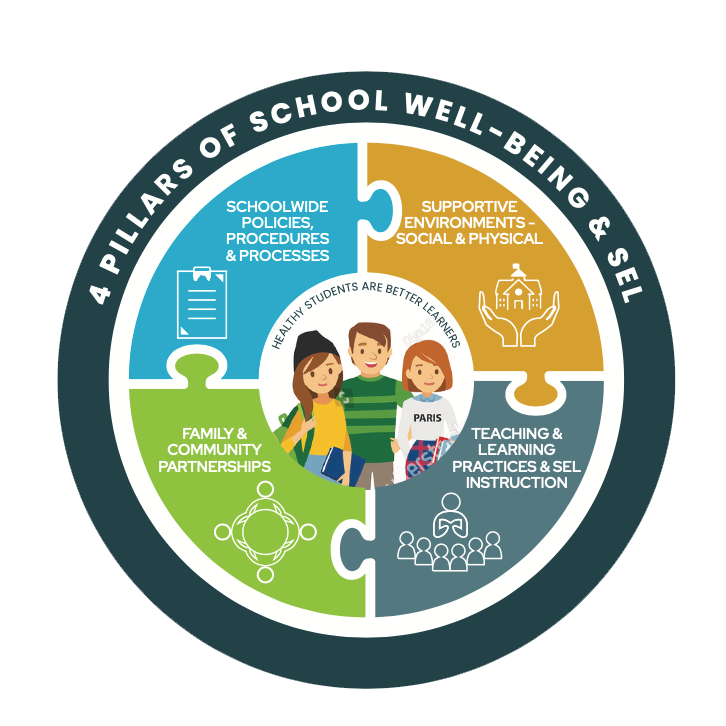 4 PILLARS OF SCHOOL WELL-BEING & SEL
This graphic illustrates the 4 essential pillars of schoolwide well-being and SEL. As can be seen in the graphic the student is in the centre and the 4 pillars are all interconnected with one another.
THE CONTINUOUS SCHOOL IMPROVEMENT PROCESS
This graphic illustrates the 7 phases of the continuous schoolwide improvement process. Start with building a leadership team and progress through each of the phases.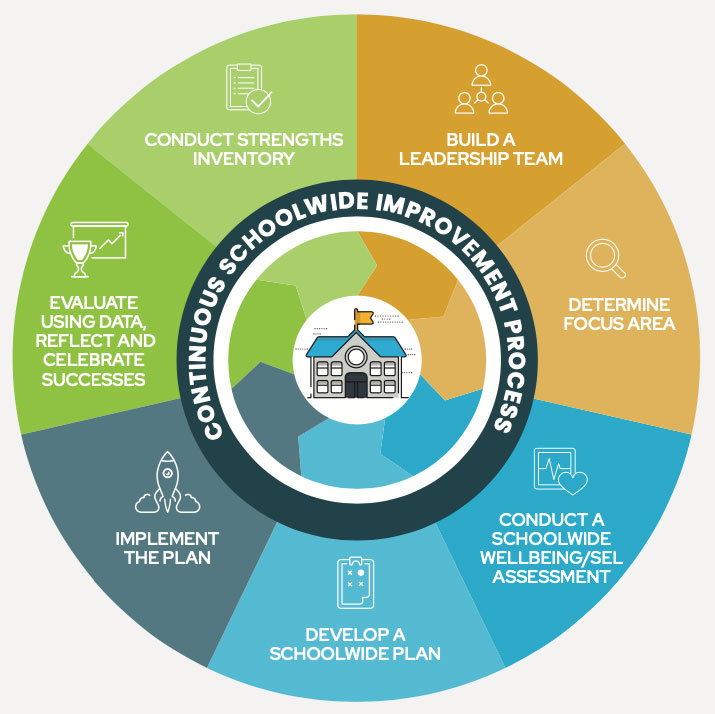 Assessment Tool
There are 2 versions of the tool for conducting the assessment and growth plan: The Assessment Spreadsheet OR the Assessment Workbook. Choose the layout that is best suited to the needs and preferences of your team.
1. ASSESSMENT SPREADSHEET
The Assessment Spreadsheet version is laid out horizontally and has less room for recording details but allows you to see more of the assessment at a glance. This option is great for recording a shortened summary of the plan.
2. ASSESMENT WORKBOOK
The Assessment Workbook is laid out vertically and the editable PDF allows you to expand the text to take up as much room as needed. You can also choose just one pillar of the assessment process for focusing on a specific area.
Resources For School Growth Planning
The resources that correlate with each of the 4 pillars of school well-being and SEL can be accessed by clicking on the accordion dropdown arrows to the left of each topic below. Click on the arrow again to collapse the accordion dropdown. To access the resource documents, click on the specific resource titles in blue font.
---